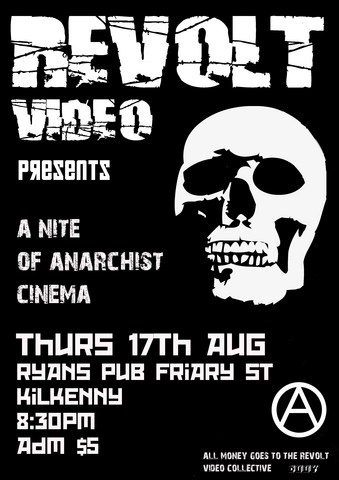 Revolt video have organised a two day festival in Kilkenny happening during the arts festival as an alternative . The opening nite of the Revolt festival will be the 17th August a Thursday and will be a cinema night featuring a variety of home grown and international footage of radical and anarchistic films . The following night will feature a variety of bands from hip hop to rock to punk to total abstarct madness .
Doors are at 8pm for both events and will start around 8.30pm . Its a mere five euro in and proceeds will go towards the Revolt video collective . We hope to have a selection of radical / anarchistic films available on the night to distrobute
The friday night of the festival will feature a large varitety of music and a good ole excuse to have a sip and a dance !
Los Langeros
( Disjointed Punkabily / Ska Intoxicated madness , that will keep you dancing !)
Party weirdo
( Rock out all female tunefull revolters)
Disfunktional
( Coolocks most wanted Hip Hop / Rapsters)
Chemical Addiction ( Kilkenny Rockers , local band that are making noise in the big K )
Contact : revoltvideo@hushmail.com for more details